Since opening the very first room of the bed and breakfast in 1980, the Cobbler Shop has been featured in magazines, books, and even TV shows.
This edition of Early American Life from December, 1988 features an article on Christmas in Zoar – a tradition that continues to this day during the first full weekend of every December.
Read the article here
Begin the holidays with a visit to this old fashioned festival, which includes decorated private home tours, crafters, museum demonstrations and more.   Extend your visit with an overnight stay in the Cobbler Shop B&B, an original Zoarite home!
…
…
…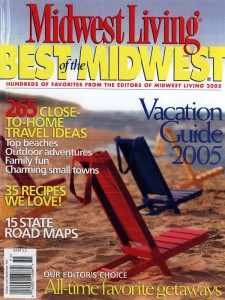 An editor's favorite in the 2005 edition of Midwest Living: Best of the Midwest, The Cobbler Shop retreat and the village of Zoar are featured together as an all-time favorite getaway. Inside, you'll even find an authentic Cobbler Shop recipe!
.
To quote from their story, "their legacy lives on just minutes – yet a world away – from that bustling interstate highway."
Read the article here
Come visit our little community – still a retreat from the hustle and bustle of the rest of the world.
…
…
…
About magazine, a monthly publication out of Stark County, Ohio, featured The Cobbler Shop B&B and Antiques in its March, 2012 edition of "About Your Home."

.

With wonderful wintertime pictures of Number 22 House, the article tells the story behind the stories of artifacts located in our home.

.

Guests are welcome any time of year at the Cobbler Shop B&B! Call us at 330-874-2600 or email [email protected] to schedule your visit.
…
…
…

"Simply Country" is the theme behind most of author, Judy Condon's books. She has a chapter dedicated to The Cobbler Shop Bed & Breakfast in her 2013 book titled, Make It Country.
.
Stories behind the whimsy and art that decorates the halls, walls, and even stairways of the Cobbler Shop are told within these pages.
…
Judy's many visits to Zoar led to the inclusion of not only the Cobbler Shop gardens, but other private Zoar gardens in her book, Along the Garden Path (2014).

Telling the story of how each garden path led to today's beautiful scenery, each chapter spills the secrets and quirks behind the statuary, pots and other eccentric garden items.

Enjoy the summertime beauty of Zoar with a weekend stay at the Cobbler Shop B&B! Garden views direct from the enclosed back porch are included for your pleasure!
…
The Cobbler Shop was delighted to host Robin Swoboda from TV Fox 8's "That's Life On the Road" on October 15, 2007. Tour our common areas and Antique Shop through the show's lens!
"Another reason for a trip to Zoar… the shopping!… Robin stops by The Cobbler Shop Bed & Breakfast where you can shop all night long! In addition to the Bed and Breakfast, Innkeeper, Sandy Worley also keeps an antique shop for visitors!" – quote from "That's Life on the Road" archive