Nook 3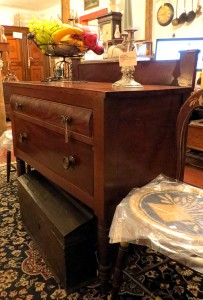 Number three nook features a small two drawer sideboard (#1).
Sitting on top is an antique wire compote (#2), and a pair of 1830's pewter candlesticks(#3).
Underneath the sideboard is a very early (1700's to early 1800's) immigrant's chest, with intricate hand carved stars and flowers on the face, and the name Suzanna Bleinieny carved into the domed lid. (#4)
Please call us at 330-874-2600 for details and price information.