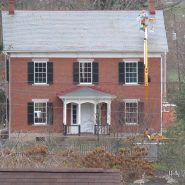 Zoar Maifest
2019 will be the 3rd year for Maifest, featuring German beers, food, and speakers. Look for more art in the Bimeler Museum gallery. The "Bimeler" was almost destroyed by floods in 2005, 2008 and 2011, and has painstakingly been brought back to life.
The entire building has been rehabilitated over the last few years, beginning with the lifting of the house in 2012 and laying of a new basement and foundation. The exterior brick, once painted white, was sandblasted to remove the color and repaired. A new period porch was added, and some of the original windows and shutters were cleaned and re-applied. It is truly a stately looking building at the corner of the historic Zoar Garden!
Click through the slideshow for the entire transformation of the Bimeler museum. Photos taken from 2012 – 2016 by Holly Thouvenin – used with permission.
This slideshow requires JavaScript.