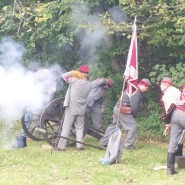 Civil War Reenactment
The very popular Civil War reenactment comes to Zoar during Autumn of odd years, and September, 2019 is the time!
The village is literally invaded by soldiers and their families! Visit the camps, watch the reenactment, shop the Sutlers, enjoy cavalry and artillery demonstrations – this weekend is on overflow!
See below for a very small sampling of what the Civil War Reenactment has in store for you when you visit.
All photos by Holly Thouvenin