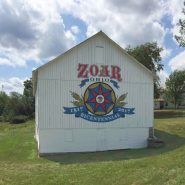 Zoar 2017 Bicentennial Events
The village celebrated its 200th birthday in 2017 with an expanded list of events, new exhibits, grand openings and even a traveling show.
---
Bicentennial celebrations kicked off on March 26th with a gala and concert by the Tuscarawas Philharmonic, in honor of Zoar.* The event was held at the Kent State Tuscarawas Performing Arts Center, and included Zoar exhibits and interpreters, strolling musicians, appetizers, and a cash bar, followed by a presentation of Violin and Vocal Virtuosity by the Philharmonic.
Zoar Hotel Tours* returned for a rare treat in April. The guided tour covered all three floors and the long history of the building.
The Bimeler Museum reopened at last during Maifest. Maifest is a new Zoar festival premiering in 2017, featuring German beers, food, and speakers. It centers around the art gallery housed in the recently refurbished Bimeler Museum. The "Bimeler" was almost destroyed by floods in 2005, 2008 and 2011, and has painstakingly been brought back to life.
The entire building has been rehabilitated over the last few years, beginning with the lifting of the house and laying of a new basement and foundation. The exterior brick, once painted white, was sandblasted to remove the color and repaired. A new period porch was added, and some of the original windows and shutters were cleaned and re-applied. It is truly a stately looking building at the corner of the Zoar Garden!
Harvest Festival* changed dates from August to July. All your favorites will return with the Antique Sale and Show, juried crafters and artisans for the festival.
On September 9th and 10th the Battle of Antietam returned to Zoar for a Civil War Reenactment*. The entire village became "tent city" with civil war soldiers, their women and children camping out and reenacting life as it was in the war zone of the 1860's. Great family friendly fun!
Zoar founders week was held during the week of October 5th through 8th, 2017. The entire week centered around "Heimatfest" and featured speakers, food, beer, a community dinner, a Separatist style church serive, a photography then and now activity, and much more.
Christmas in Zoar* was celebrated on December 2nd and 3rd, 2017. The old-fashioned event always helps you get into the spirit of the season and get a great start on your holiday shopping! Juried artisans, food, entertainment and even horse drawn wagon rides are featured.
The free Zoar Speaker Series will continue on the first Saturday of most months.
Make your reservation for a stay in The Cobbler Shop now to experience this year's events.
* denotes tickets were required. Visit Historic Zoar Village for additional information.