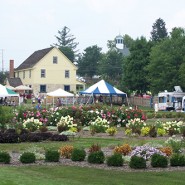 Zoar Harvest Festival
Mark your calendars now so you won't miss Harvest Festival in Zoar this year!
New dates this year: Saturday, July 29th and Sunday, July 30th, 2017 will feature the FABULOUS Antique Show & Sale under the big (and we mean big!) tent.
A new feature exhibit will appear in the Number One House, focusing on the people and everyday lives of the Separatists of Zoar.
The festival also brings juried craftsmen featuring American made art; along with music, refreshments, entertainment and even horse drawn wagon rides through the village. Visits in the museum buildings are included with admission.
You won't want to miss the Historic Garden in its best of season grandeur!
Photos by Holly Thouvenin