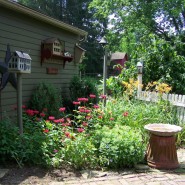 Zoar Garden Tour
Zoar Community Association hosts a Garden Tour on even years, which includes many private village gardens. With symposiums and vendors; a market fair in the Historic Garden; a lovely luncheon and silent auction – this one day affair is always a big hit – whether you like to grow or browse!
Reservations are required for the luncheon, but you may purchase tour tickets only if you walk in the day of.
The next event will be held in 2020. Visit www.zca.org or call 330.874.3011 to make reservations for the luncheon.
Photos by Holly Thouvenin