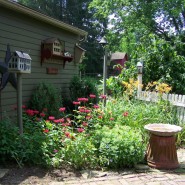 Zoar Garden Tour
Yes, it's true – The Cobbler Shop gardens will be a feature on this year's "Beyond the Fences of Zoar" Garden Tour! We have kept our gardens private for our B&B guests' enjoyment in the past, so this exception to that rule means that your ticket gives you access to enjoy all the surprising corners of our gardens. If you follow our facebook page, you've caught a sample of bits and pieces – but you simply MUST COME to experience this quite possibly once in a lifetime opportunity in our yards.
ZCA hosts this Garden Tour, which includes many private village gardens. With symposiums and vendors; a market fair in the Historic Garden; a lovely luncheon and silent auction – this one day affair is always a big hit – whether you like to grow or browse!
Private gardens on the tour include: Rick & Diane Geis, Scott & Marilyn Gordon, Nicole Lake, Chuck and June Knaack, Sandy Worley (Cobbler Shop), Hans Fischer, and Doug Parkinson & Kevin Bechtel.
Presenters include: Dick Gooding, Sherry Schie, Stutzman Landscaping, Scott Gordon, Doug Parkinson, and Nathan Paternoster.
The menu for the luncheon is: choice of two soups, chef salad, specialty breads, artisan meats and cheeses, tea, coffee, iced tea, water, and wine, as well as dessert.
$35/person – tours & luncheon
$15/person – no luncheon
Call 330.874.3011.
Reservations are required for the luncheon, but you may purchase tour tickets only if you walk in the day of.
June 25, 2016, 9:00am – 5:00pm. Visit www.zca.org or call 330.874.3011 to make reservations for the luncheon.
Photos by Holly Thouvenin