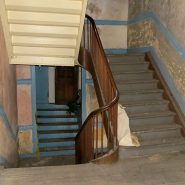 Zoar Hotel Tours Sept 2016
Tour guides will peel back 183 year old layers in the 1833 structure when Historic Zoar Village offers free tours of the Zoar Hotel on Friday, September 9 and Saturday, September 10, 2016 from 11 a.m. to 3 p.m. Additional tours are available on Sunday, September 11 from noon to 3 p.m.
The tours are part of Ohio History Connection's Ohio Open Doors – a statewide effort to commemorate the 50th anniversary of the National Historic Preservation Act through behind-the-scenes tours and lectures.
Reservations are required and can be made by calling 330-874-3011. While free admission applies to the hotel tours, visitors that wish to tour the rest of Zoar Village can purchase tickets at the Zoar Store. Cost is $8 for adults and $4 for kids 12 and under.
Photos are by Holly Thouvenin, taken in 2012.
The National Historic Preservation Act Turns 50
Ohio Open Doors is commemorating the National Historic Preservation Act. Established in 1966, the act has been instrumental in preserving the historic fabric of U.S. cities and neighborhoods. It has transformed the face of communities by establishing a legal framework and incentives to preserve historic buildings, landscapes and archaeology. The act drives economic revitalization by attracting investment, supporting small business, stabilizing neighborhoods and creating jobs.